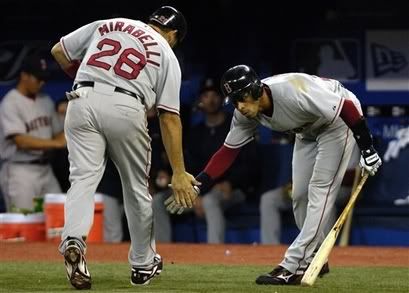 Mirabelli's 2008 contract is reportedly worth a base salary of $550,000. Incentives could make it worth as much as $1 million. It's not the salary that most interested me, however. Along with salary figures,
the Boston Herald is reporting
that the Red Sox originally attempted to sign Mirabelli to a contract without a guaranteed salary.
This would seem to indicate that the Red Sox are losing faith in the backup catcher. I think it's likely that they'll bring in other options to compete for the job in Spring Training. And if Mirabelli doesn't make the team, his $.55 million salary wouldn't be difficult to eat.
Mirabelli's main competition is likely to be Red Sox minor league catcher Dusty Brown. Brown hit .268/.344/.453 with Double-A Portland last year, and he offers the same quality defense that Mirabelli brings to the table. To this point Red Sox minor league catcher George Kottaras appears to be a failure offensively. After posting OBP's over .390 in back to back years at Double-A, he's yet to get his OBP over .316 at the Triple-A level.
On another note, that $10 million plus a year salary for Varitek appears to be speculative. The Boston Herald estimated the figure based on the salaries of Ivan Rodriguez and Jorge Posada. Each of those catchers are making $13 million a year.