The Royal Rooters spent quite a bit of their time engaged in debate about the rival Boston Braves. The Braves are now long gone and have been replaced by an even more bitter rival - the New York Yankees. So, in the spirit of The Royal Rooters, I thought I'd take a moment to put the Yankees in their place. Here are five reasons why the Yankees won't see the ALCS this year.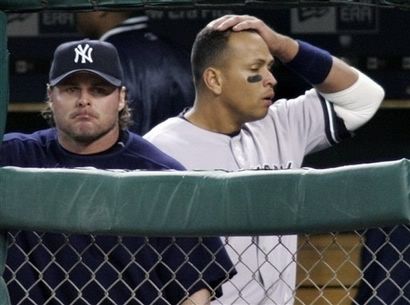 1. Lions In September, Mice In October -
The Yankees have had some offensive trouble as well lately. Both Hideki Matsui and Melky Cabrera have hit below the Mendoza line in September. It's hard to predict even how their hottest hitters will do in October however.
Last year, A-Rod's best month of the year was September. He hit .358/.465/.691 for an OPS of 1.157. Come October however, A-Rod hit under .150 for the second postseason in a row. A-Rod has posted his highest strikeout total of any month this September, striking out more than once every four at bats. Could it be a sign of things to come?
The Yankees have lead the major leagues in runs scored, each of the past regular seasons. Come playoff time however, they haven't been able to average more than four runs a game in either one of the last seasons. 2006 was an especially horrendous series for the Yankees offensively, as they compiled a batting average of .246.
2. Bullpen Inferiority -
The Yankees bullpen has been an issue for them all year. It's not really fair to compare the two team's bullpens. The Indians have one of the deepest bullpens in the league. Some of the bullpen arms they can trust include Betancourt (1.47 ERA), Perez (1.78 ERA), Lewis (2.13 ERA) and Fultz (3.03 ERA). Fultz is the only one of those pitchers who does not have more strikeouts than innings pitched.
When it comes to the Yankees however, they essentially only have two bullpen arms which they can trust. One of them is Mariano Rivera, but the other one is rookie Joba Chamberlain, who has never pitched in the postseason. Former Yankees set up man Luis Vizcaino, has really struggled lately. Perhaps his 77 appearances have caught up with him as he's had an ERA over 10 in September.
3. Sabathia and Carmona -
Sabathia and Carmona are arguably the best 1-2 punch in the league. Both pitchers were in the top 10 in the league in wins, ERA and WHIP. Sabathia could be especially tough for the Yankees. The Yankees have done poorly against lefty starters this season (19-19). They also haven't faced Sabathia in years. The Yankees will have to face those pitchers on the road, where they've gone 42-39 this year.
4. Starting Woes
- Outside of Chien-Ming Wang, every member of the Yankees playoff rotation is a question mark. Pettitte, typically one of the best September pitchers in baseball, has really struggled down the stretch. In September, he's had an ERA of 5.86, a WHIP of 1.67 and a BAA of .324. That's good for his worst September in over nine years.
By the time Clemens gets the ball in game three of the ALDS, he will have gone 20 days without pitching. There have been jokes that Clemens will be pitching with his arm on a thread. His real issue however is his hamstring, which is an infamously pesky injury. The last time Clemens pitched in the postseason with a hurt hamstring, the results were disastrous. He blew up in the ALDS and then again in the World Series, lasting only 2 innings. His postseason ERA in that year of 2005, was 5.63.
And finally, we arrive at the Yankees fourth starter, Mike Mussina. Mussina lost his rotation spot after completely falling apart in August. After stringing together two quality starts in a row, Mussina again got lit up, allowing six runs on 11 hits in his last outing. He didn't get out of the fifth inning.