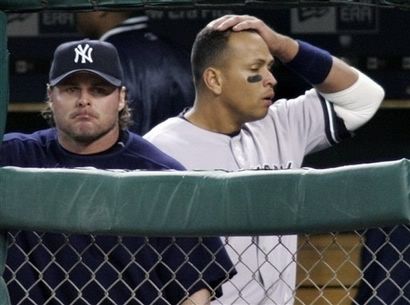 Going into the 2007 season, there was speculation that the Yankees offense was primed to score north of 1,000 runs on the year. Yet, even with career years from Posada (+.103 OPS from 2006) and Rodriguez (+.153 OPS from 2006) the Yankees still fell short of the mark. So what happened?
Well, to put it most simply, aging. The Yankees went into 2007 with two members of their regular lineup younger than their age 33 season. And while you'd be hard pressed to see declining trends in the production of many of the aging Yankees vets going into last season, the age of 33 or 34 is typically when players begin to hit a wall.
And hitting a wall is exactly what much of the Yankees offense did in 2007. Bobby Abreu posted the worst OPS of his career. Both Matsui and Giambi posted the second worst OPS's of their career in 2007, and Damon posted the third worst OPS of his career in the same year. But those numbers don't tell the entire story.
Of all the members of the Yankees offense, Giambi's declining production is probably most concerning. Giambi figures to start the season as the Yankees starting first baseman. And even if he doesn't play the entire season in that role, he'll likely receive quite a bit of playing time there as the Yankees would prefer to DH Matsui and don't have a solid option as a backup first baseman.
Jason Giambi will be 37-years-old in 2008 and is riddled by health issues, likely related to his previous PED use. Last year, Giambi had an OPS of .790 which is well below average for a first baseman. He also struck out every 3.84 at bats, striking out more often than he got a hit. Most concerning about Giambi, however, is the way he breaks down under the wear of the season. Last year, he hit .200/.323/.429 in the second half of the season, even though he only played in 83 games, with the vast majority of his playing time coming as a DH.
Giambi's offensive decline is rather radical, but he's only one member of the offense. The decline in Abreu and Matsui's offense is also concerning. Both players are key members of the Yankees offense who both scored and drove in 100 runs last year. His OBP fell right off the table from a lofty .424 to .369. As for Matsui, his AVG and SLG fell for the second straight season in 2007.
But a continued aging process isn't the only reason the Yankees offense will take a hit in 2008. As previously stated, Alex Rodriguez and Jorge Posada both had monster career years last year. The likeliness of either one of those players putting up back to back career years are remote. They are especially remote for Posada, a catcher in his age 35 season.
And one factor which will especially hurt the Yankees offense is their decision to DH Hideki Matsui. Defensively, it may be a necessity as Matsui's defensive abilities have really fallen off. But offensively, it forces the Yankees to play Melky Cabrera in center. And Melky, more than any other Yankee, kills New York's offense.
Any outfielder who puts up an OPS of .718 should not have a starting job on a serious contender like the Yankees. Cabrera's offensive production as a regular player ranked near dead last among the league, even when compared to the weak hitting position of centerfield.